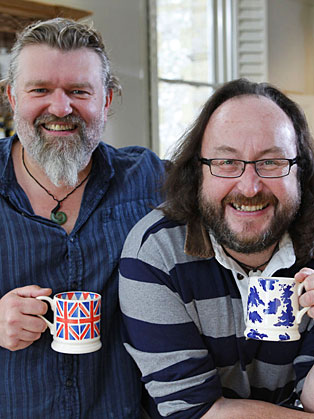 Best known for:
The Hairy Bikers are best known for being British television presenters.
Summary:
David Myers and Simon 'Si' King collectively known as the Hairy Bikers, are British television presenters who have fronted the series The Hairy Bikers Cookbook, The Hairy Bikers Ride Again, The Hairy Bakers and The Hairy Bikers' Food Tour Of Britain.
Biography:
Both Myers and King have a background in TV and film production. Myers is a professional make-up artist, specialising in prosthetics while King served as locations manager on numerous productions including the Harry Potter films and Byker Grove They met in 1995 on the set of a TV drama entitled The Gambling Man, which was based on a Catherine Cookson novel. King was the second assistant director and Myers was head of prosthetics, hair and make-up on the production.
The duo appeared on the BBC's The Hairy Bikers' Cookbook. Their TV shows are a mixture of cookery and travelogue using a similar format and style to that previously associated with Keith Floyd including the habit of frequently referring to the cameraman and other crew.
The pair have appeared on several episodes of Saturday Kitchen on the BBC, as well as on Richard and Judy on Channel 4.
In 2009 they filmed a 30-part daytime series for BBC Two, The Hairy Bikers' Food Tour of Britain, which aired weekdays starting on 24 August 2009. The series saw them visit a different county each day and cook what they considered to be that county's signature dish.
More recently they presented Hairy Dieters: How to Love Food and Lose Weight which showed how The Hairy Bikers radically changed lifestyles, but stayed true to their love of great food, as they embarked on a campaign to lose two-and-a-half stones in three months, and comfortably passed their target weights.
Fee range:
Please Enquire