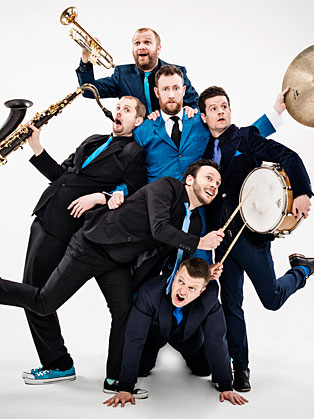 Best known for:
The Horne Section is a live music variety show which has been broadcast on BBC Radio 4.
Summary:
Alex Horne and his five-piece jazz band "The Horne Section" combine comedy, improv, storytelling and music.
Biography:
Gathering together the UK's finest musicians and throwing them on stage with the world's most exciting comics, Alex Horne has created something truly unique: The Horne Section. This is potent comedy, a heady mix of spontaneous stand-up, spectacular performance and outlandish musical talent. Hot on the rhythmic heels of their very own BBC Radio 4 series and three years of sell out shows in the West End and across the world, The Horne Section bring their indomitable late-night festival fanfare back to Edinburgh.
Alex Horne is the creator and host of The Horne Section. Together, Alex and his five piece band create a heady mix of stand-up comedy, cabaret performances and live music with special guests such as Ed Bryne, Jimmy Carr, Greg Davies, Tim Minchin and Al Murray. The Horne Section has had sold-out runs at the Edinburgh Festival in 2010, 2011, 2012, 2013 and 2014 as well as at The Soho Theatre, Lyric Theatre – Shaftesbury Avenue, The Criterion Theatre and The Hackney Empire. In 2011, The Horne Section was commissioned to make a one-off special for BBC Radio 4, the success of which led to a full series broadcast in spring 2012 and a second in 2013.
Fee range:
Please Enquire