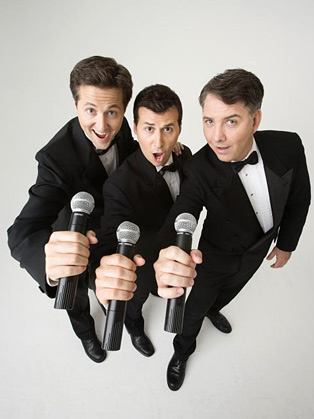 Best known for:
The Three Waiters wedding surprise singing waiters act are the worlds original and most successful singing waiters act of it's kind.
Summary:
The most popular surprise singing waiters show in the world for corporate, fundraisers/non-profits, and wedding events. Often called "The Event Planners Dream" The Three Waiters combine surprise, humour, amazing singing and audience interaction that is unique in the world of entertainment. More than just singing waiters; has to be seen to be believed!
Biography:
In 1998, Mark Bradley created The Three Waiters, which has become a global brand and has performed over 12,000 shows in 90 countries.
The Three Waiters involves three talented opera singers posing as "real" waiters at your event, hoaxing and amusing your guests before revealing themselves as singing waiters in a thrilling operatic performance a la The Three Tenors.
This act take the concept of singing waiters to a new level, adding elements of sophistication, spontaneity, humour and audience interaction. It is not a slap stick or improvised waiters show. The act is completely sympathetic to the staff, caterers and guests and does not belittle or embarrass in any way; everything that happens in their show could happen in real life, which is why the audience reacts with complete amazement to the comedy and vocal theatrics.
The Singing Waiters is made up of the best performers that opera and musical theatre has to offer. Each artist is chosen after an extensive audition process and not only must be vocally outstanding but must also possess a dynamic personality, with a flair for character acting, timing and comedy. The act have won numerous awards, including being the only act to win Entertainer of the Year twice from Event Solutions Magazine.
Fee range:
Please Enquire
Testimonials:
We have had several Doctors asking how we are ever going to top your act at next year's dinner and at the moment I have no answer!
Cassandra Smith, Astra Tech
Thank you for the most wonderful and organised way of entertaining a group of normally very spoiled and jaded Hoteliers!! I think we received more compliments about your involvement than anything else at the conference!
Tim Hadcock-Mackay B.KTO. Osj Chairman, Grand Heritage Hotels International