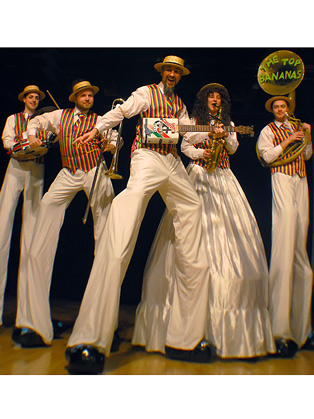 Best known for:
The Top Bananas the UK's only professional band on stilts!
Summary:
Jazz, Funk, Disco & Ska Classics all get The Top Banana treatment and their musicians have many years of professional and international live music and stilt experience at all kinds of festivals, events and openings.
Biography:
As well as the providing the spectacle of long legged performers! the band play a wide variety of classic pop tunes both old and new, in their own unique style. The Top Bananas have been wowing their audiences for over 10 years with their high energy and eccentric performances.
This band on stilts features a leaping monkey on bouncy stilts who plays an oil-can guitar, harmony vocals, a horn section, and a rhythm section.
The band is all about fun and plays a selection of Jazz, Funk, Disco and Ska classics. Besides the Jungle Band there are also Western, Sporty, 70's Disco, Hippy Flower children, Floppy Toppers and of course Black Tie versions available.
Fee range:
Please Enquire