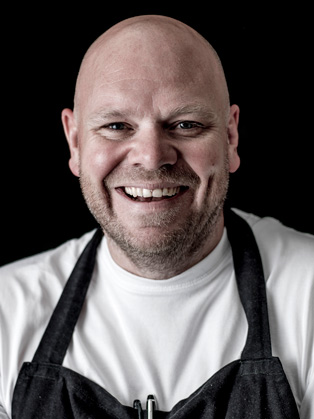 Best known for:
Tom Kerridge is the incredibly popular and loveable chef patron at the extraordinary two Michelin-starred The Hand & Flowers pub in Marlow.
Summary:
Tom Kerridge is a professional English chef who has worked mainly in the UK. After initially appearing in several small television parts as a child actor, he decided to attend culinary school at the age of 18.
Biography:
Previously head chef at Michelin-starred restaurant Adlard's in Norwich, Tom Kerridge also worked at Monsieur Max in Hampton, Odette's, Rhodes in the Square, Stephen Bull and The Capital.
He is now chef patron of the 2 Michelin-starred pub The Hand and Flowers in Marlow, which he has had since 2005. He describes his food as 'Modern British adding new touches and ideas to classic dishes'. It was quite a moment for Michelin when the second star was awarded, and some say quite controversial. The world's culinary press descended on Marlow following the announcement and discovered a special venue, team and chef there.
Tom is a great character with amazing presence; obvious warmth and an infectious laugh, so it wasn't a surprise when Tom landed his own TV show. The brilliantly popular BBC2 series Proper Pub Food became a huge overnight success with excellent ratings with Tom's fan base growing weekly as the 6 part series went on.
Accompanying the show Tom wrote his first book of the same title which fast became a best seller. Most recently, Tom has been presenting BBC2's new series Bake Off Crème De La Crème which saw some of the country's top pastry chefs compete, creating elaborate pastries and desserts. Tom is also part of the team on BBC2's The Food Detectives, helping people improve their cooking skills.
In 2014, Tom presented his second series, Best Ever Dishes that again proved extremely popular, along with his bestselling book of the same title. Tom also took on the challenge of opening another restaurant, The Coach, which is also in Marlow. The Coach is a relaxed modern pub, open all day, every day serving breakfast, lunch, dinner and pub snacks. The Coach has a no reservations policy and has enabled more visitors than ever to taste Tom's incredible take on traditional pub food.
Tom also took on hosting BBC2's flagship cookery show Food and Drink. Tom cooked alongside other TV heavyweight chefs, championing seasonable produce and creating dishes accessible to everyone at home every Friday night on BBC2.
Prior to having his own show, Tom appeared on shows such as Market Kitchen, MasterChef the Professionals, Saturday Kitchen and has competed and won the main course twice on BBC2's Great British Menu.
Having been a successful regular competitor on Great British Menu, Tom now appears as a veteran judge and mentor.
Publications:
Tom Kerridge's Proper Pub Food (August, 2013)
Tom Kerridge's Best Ever Dishes (August, 2014)
Tom's Table: My Favourite Everyday Recipes (September 2015)
Tom Kerridge's Dopamine Diet: My low-carb, stay-happy way to lose weight (Jan 2017)
Fee range:
Please Enquire