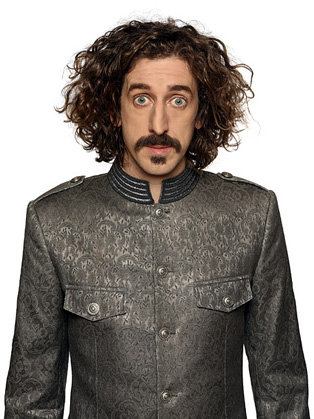 Best known for:
Tom Wrigglesworth is an established Stand-Up comedian, Radio and TV presenter and voice-over artist from Sheffield, England.
Summary:
He is best known for his live storytelling shows and BBC Radio comedy programmes, which take a comical and emotional look at family relationships. Alongside his comedy work, he has used his engineering background to become a natural and engaging presenter for BBC Television and The Discovery Channel.
Biography:
With a disarmingly charming delivery and unforgettable appearance, this Yorkshire funny man became a national have-a-go-hero when he rescued a little old lady from the jaws of a Virgin train ticket inspector; only to be arrested for begging. His subsequent story of the event secured Tom several awards including the Chortle Best Show Award, and a nomination for the main Edinburgh Comedy Award.
This led to a sell out tour of the UK, and runs at the New Zealand Comedy Festival and prestigious Montreal Comedy Festival.
Following this, Tom recorded two series of 'Tom Wrigglesworth's Open Letters' for BBC Radio 4, tackling consumer issues in his own hilarious way and winning a highly acclaimed Sony Award for best Radio Comedy along the way.
His next radio project, 'Tom Wrigglesworth's Hang Ups' for BBC Radio 4 is currently in its second series and focuses on telephone conversations with his parents.
As a natural and engaging television presenter, Tom put his technical background to use when he appeared on 'Electric Dreams' for BBC 2, advising a modern family as they fast forwarded through three decades of technology. He then presented Engineering Giants, also for BBC 2, which saw Tom climbing aboard an oil platform, servicing a passenger ferry and dismantling a jumbo-jet whilst interviewing various engineers to keep the viewers informed as the three major strip downs unfolded.
Further television credits include being a regular contributor on The Discovery Channel where he explains the science behind crowd sourced stunts and experiments on the popular show ' You have been warned'
He is also known for his uncanny resemblance to Green Bay Packers Quarter back Aaron Rodgers and worked with NFL films to create 'The Incredible Mr Wrigglesworth'. This short film that featured Tom performing in Green Bay, receiving the key to the city and coming face to face with his doppleganger became a viral You Tube hit.
Since winning the Channel 4 new comedian competition, 'So You Think You're Funny' in 2003, Tom is now firmly established as one of the most original, talented and respected comedians on the UK and International comedy circuit.
Fee range:
Please Enquire