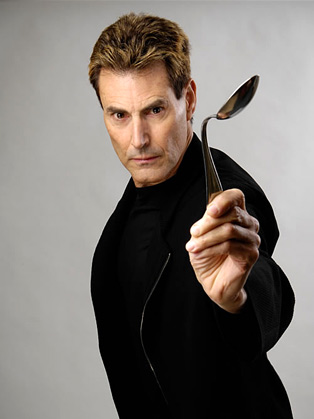 Best known for:
Uri is a world renowned illusionist, magician, and a metal spoon's worst nightmare.
Summary:
Uri is one of the world's most investigated and celebrated mystifiers. Famous around the globe for his mind-bending abilities, he has led a unique life shrouded in debate, controversy and mystery. He is also related to Sigmund Freud.
Biography:
Uri Geller was born in Israel on December 20, 1946. His parents were of Hungarian and Austrian descent, and he is distantly related on his mother's side to Sigmund Freud. At the age of four he had a mysterious encounter with a sphere of light while in a garden near his house. A retired Israeli air force officer, who was an eyewitness to this encounter, validated this mystifying event decades later. 

He first became aware of his unusual powers when he was five. One day, during a meal, his spoon curled up in his hand and broke, although he had applied no physical pressure to it. His parents were somewhat shocked and Uri did not mention the incident to anyone else at that time. He developed these powers in school by demonstrating them to pupils. His mother thought he inherited them from Sigmund Freud.

When he was eleven, he went to live in Cyprus, where he remained until he was seventeen. He then returned to Israel, served as a paratrooper in the Israeli army and fought in the Six-Day War of 1967 during which he was wounded in action.

From 1968 to 1969 Uri worked as a model, being photographed for many different ad campaigns.

In 1969 he began to demonstrate his powers of telepathy and psychokinesis to small audiences. By the end of 1971, he was a household name throughout Israel, thanks to his numerous stage appearances. He was given a huge boost by the then Prime Minister, Golda Meir when asked on a national radio programme what she predicted for the future of Israel, she replied, "Don't ask me - ask Uri Geller!"
Uri has been studied by the world's leading scientists, including a few who worked with Albert Einstein. The world's most prestigious scientific magazine, Nature, published a paper on Uri's work at the Stanford Research Institute in the U.S.A - a unique endorsement, and an irrefutable proof that his skills are genuine. His work with the FBI and the CIA has ranged from using Mind Power to erase KGB computer files and track serial killers, to attending nuclear disarmament negotiations to bombard and influence the Russian chief negotiator with positive thought waves so that the Soviet delegation would sign the Nuclear Arms Reduction Treaty. Uri also addressed a group of US Senators and National Security Executives at the high-security room in the Capitol Building in Washington. For decades this aspect of his career was too confidential and controversial to discuss. Uri Geller's name has also appeared countless times in crossword puzzles around the world, including The New York Times, Washington Post, New York Magazine, TV Guide (USA), People, New Yorker Magazine, and International Herald Tribune and even in the general knowledge game of Trivial Pursuit. Marvel Comics' Daredevil featured Uri on the cover as "The most shocking guest star of all The incomparable Uri Geller!".
Recently Uri has helped to negotiate an amicable agreement between the Palestine Red Crescent and Israel's Magen David Adom: "Uri Geller did not just help break the ice with the skills that have made him famous - a considerable number of bent spoons line the road that led to this agreement," said Swiss President Micheline Calmy-Rey. "He has also played a pivotal role in helping everyone focus on the main objective and overcoming differences over secondary details at key junctures," she told the assembled dignitaries. Later on in Geneva he read a speech from the organization pledging to address Syria's humanitarian concerns to a 192-nation conference to approve a new Red Cross (Red Crystal) emblem that enabled Israel to join the movement after nearly six decades of exclusion.

Uri has lectured to the directors and CEOs of large multinational companies such as Henkel, the Prime Minister's Conference, Novartis, Mizuno, Sony, Rolls Royce, Hallmark and many more. He was also invited by PriceWaterhouseCoopers as a speaker to the 2004 World Economic Forum at Davos, Switzerland, along with such dignitaries as Bill Clinton, Dick Cheney and Steve Forbes. In 2006 Uri lectured to the heads of Reuters in Jerusalem and also to the heads of Google Europe. In 2007 and 2008 among many other lectures he motivated Balderton Capital at their Annual CEO Summit in London and Turkey's chemical giant Gemsan in Istanbul.

A vegetarian and fervent promoter of peace, Uri has used his intuitive abilities to successfully detect oil and precious metals, one of his successes in locating a huge offshore oil field for Mexico's national oil company PEMEX resulted in Uri getting a Mexican nationality as a token of appreciation and honour by Mexico's President Jose Lopez Portillo. This has provided him the freedom to help others. He counts Sigmund Freud among his forebears, and he is the motivational Mind Power coach to Premier League footballers, industrialists, Formula One drivers, boxers and racing cyclists. An avid fitness enthusiast, Uri cycles 15 miles daily on his exercise bike.

Uri has founded The Uri Geller Charitable Foundation from which he helps sick and under privileged children.

Uri Geller is mentioned in at least 1,250 different books. 

In 1995 a major motion picture inspired by Uri's life story titled MindBender was filmed in Israel directed by the legendary Ken Russell starring Oscar nominee Terrence Stamp. The film was distributed among others by Disney's Buena Vista.

Uri's artistic skills began during his early childhood. A 'pupil' of Salvador Dali, whom he knew well, Uri has exhibited his drawings, paintings and artworks in major galleries and museums in the USA, Europe, Japan and Israel. His creations of pottery, led crystals, natural rock crystal jewellery and watches for QVC are in great demand worldwide. Uri's drawings are featured on both Belinda Carlisle's and Michael Jackson's latest albums. Uri Geller also helped to design the logo of the most successful boy band in the world ever, N*SYNC. 
He has met great artists such as Andy Warhol, Picasso, Peter Max and John Lennon, who was his close friend in New York during the Seventies.

Uri's tireless dedication to charitable work and humanitarian projects led to his appointment as the Honorary Vice-President of the Royal Hospital for Children in Bristol and of the Royal Berkshire Hospital, close to his Thames-side mansion. On numerous occasions, Uri has given awards on behalf of His Royal Highness Prince Philip, The Duke of Edinburgh, at Buckingham Palace and St. James Palace, and lectured at the United Nations for international delegates. He is the father of a daughter and son, both in their mid-twenties; he is also the owner of two dogs and the author of fifteen best-sellers, including the novels Ella, currently in production to be made into a major Hollywood movie, and Dead Cold, which was listed as a contender for the Golden Dagger Award by The Times in the UK.
Although he is not a Magician, Uri was very proud to accept the David Berglas International Magic Award in London in 2008, for his services to the promotion of Magic. In 2010, he received in Los Angeles the prestigious Dunninger memorial award.
His television series The Successor, which premiered in Israel in early 2007 to historic record-breaking ratings, has now been launched worldwide. Screening in the United States on NBC prime time, under the title Phenomenon, the show was co-hosted by the mystifying artist Criss Angel. Uri Geller himself created the format and helped to adapt it for Germany's ProSieben, where it topped the ratings in January 2008. The show has also been a massive hit in Holland, Hungary, Turkey, Greece, Ukraine, Sweden and Russia, soon to be produced in England, Spain, Italy and the Czech Republic/Slovenia. The Successor was televised also in Canada, Iceland, Australia and Finland.
A&E, the American cable network, broadcast the NBC version of his series Phenomenon in Latin America, including Brazil, Argentina, Venezuela, Columbia, Mexico and many more South American countries.
In 2008 Uri created an amazing UFO TV event in Germany and more TV specials are planned for worldwide distribution.
The 3rd season 2010 of the Dutch series of The New Uri Geller / The Next Uri Geller has just been televised with great success. 2011 Scandinavia, France, Ukraine. 2012 India China & Spain.
In 2012 Uri was awarded the prestigious Golden Grolla award, at the eleventh "Masters of Magic" convention in St Vincent Italy, for inspiring the world of magic. In 2012 Uri also received the Star Foundation award at the house of commons (Houses of Parliament) in London, in recognition of his charity work.
Fee range:
Please Enquire