Back
Wilfred Emmanuel Jones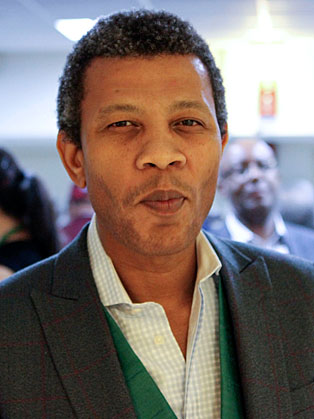 Best known for:
Wilfred Emmanuel-Jones is best known under the name "The Black Farmer."
Summary:
Wilfred Emmanuel-Jones is a British businessman, farmer and founder of "The Black Farmer" range of food products.
Biography:
In his own words, Wilfred is 'a poor boy, done good'. Born in Jamaica and raised in inner city Birmingham, unqualified but persistent, he talked his way into television. He was responsible for introducing chefs like Gordon Ramsay and James Martin to the small screen - but he's now known simply as The Black Farmer.

After his stint in TV, Wilfred fulfilled his ambition to own a small farm in Devon. This in turn led him to launch a range of sausages and sauces under the Black Farmer label. He had spotted that while many farmers had lost any contact with the customer, he could engage directly with them and even persuade them to lobby supermarkets on his behalf. Wilfred's brand now extends to country clothing.

Flavours without Frontiers (the strapline on all his products) sums up Wilfred's personality and philosophy. He refuses to be confined by race, convention or tradition. His forthright opinions on rural affairs and what he sees as justice for small producers often generate attention - as does his call to business audiences to challenge old ways of doing things.

In presentations Wilfred argues that everyone must take personal responsibility for their actions, no matter how disadvantaged. The alternative is to slide into a culture of victimhood. As part of his own commitment to broaden horizons, he has launched a scholarship to give young people from inner city communities an opportunity to experience life in a rural environment.
Fee range:
Please Enquire