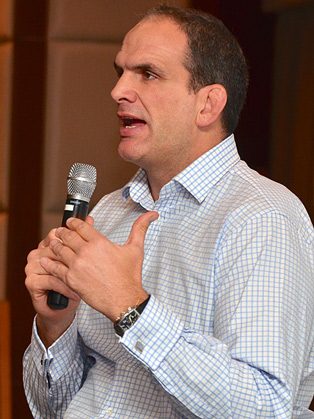 Best known for:
Martin Johnson is best known for captaining England to victory in the 2003 Rugby World Cup.
Summary:
Martin Johnson CBE is an English former rugby union player who represented and captained England and Leicester.
Biography:
Martin Johnson is regarded as one of the greatest locks ever to have played, and one of England's greatest ever players. He toured three times with the British and Irish Lions, becoming the only man to have captained them on two separate tours.
Martin also led his club Leicester Tigers to consecutive Heineken Cup victories, won the league five times including four consecutive victories as captain and won the Pilkington Cup twice.
He became the new England team manager on 1 July 2008, replacing the previous manager Brian Ashton, but left the post in November 2011 following England's quarter final defeat at the 2011 Rugby World Cup.
Sir Clive Woodward summed up his magnificent career: "I can't speak highly enough of Martin. He has made an outstanding contribution for his country both as a player and as captain on and off the pitch. He stands down now having achieved everything there is to achieve as an England player."
Martin is also an expert on the history of Rugby Union, having written a book on the subject. Entitled Rugby and All That. Martin offers audiences considerable insight into the game of rugby and the forces behind his own success both on and off the pitch, delivered with charm and a well placed sense of humour.
Martin will consider keynote, after dinner and fireside chat, here's a memorable clip here.
Fee range:
Please Enquire